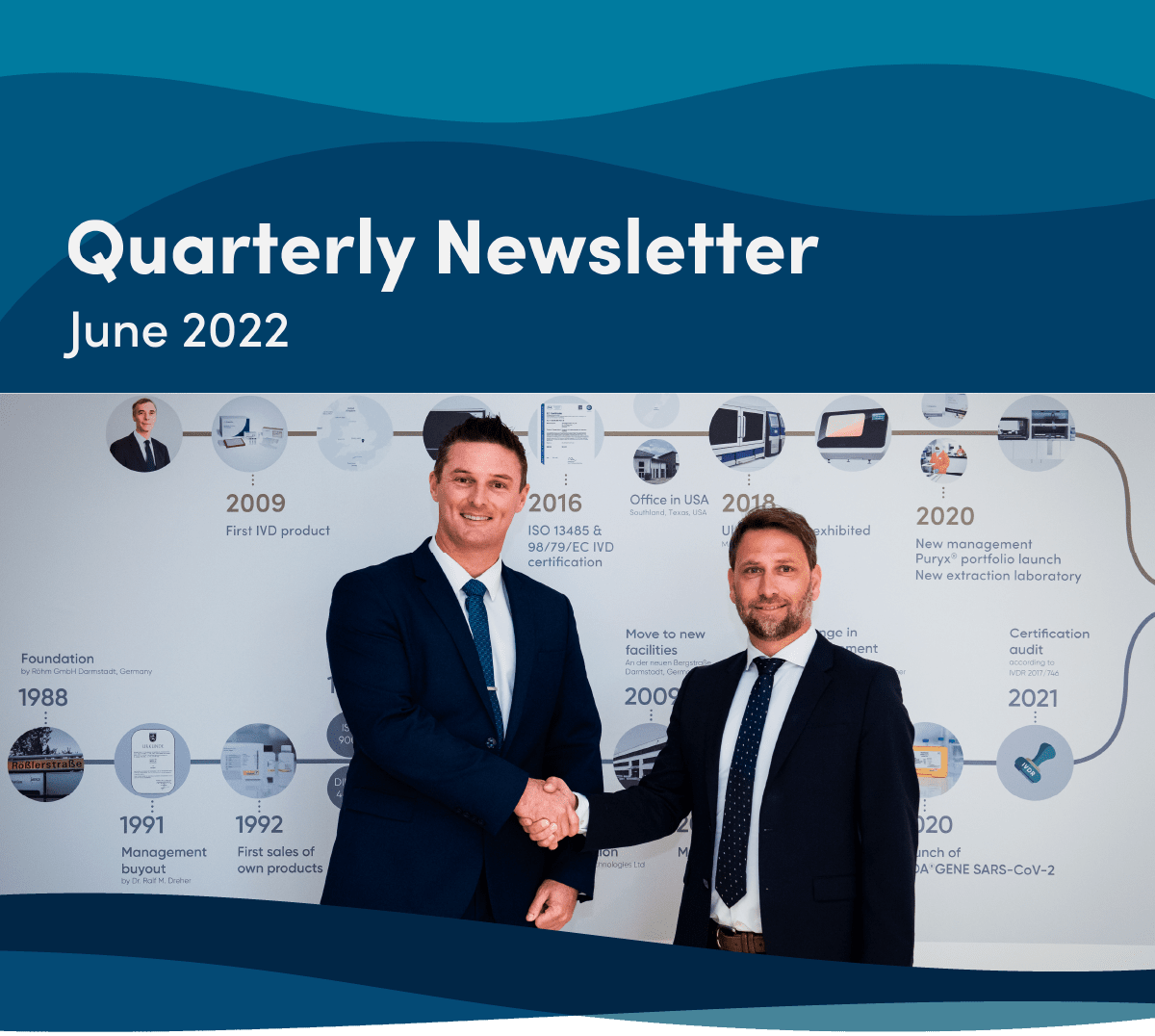 AusDiagnostics joins the R‑Biopharm AG Group
AusDiagnostics is proud to join the R‑Biopharm AG group, a leading German biotechnology company. The acquisition was finalised in June by the boards of directors of both companies.
"We've experienced tremendous, industry-leading growth over the past two years, which has been underpinned by our broad suite of innovative products, talented team, and incredible, loyal customers. Joining the R-Biopharm AG Group will allow us to further build on this and continue to deliver exceptional products and services for our Australian and international customers." – Scott Gilroy, AusDiagnostics CEO
The alliance will enable us to accelerate the pace of our mission to improve patient health through worldwide distribution of innovative molecular diagnostic solutions and extend our support network to continue to deliver the best customer care.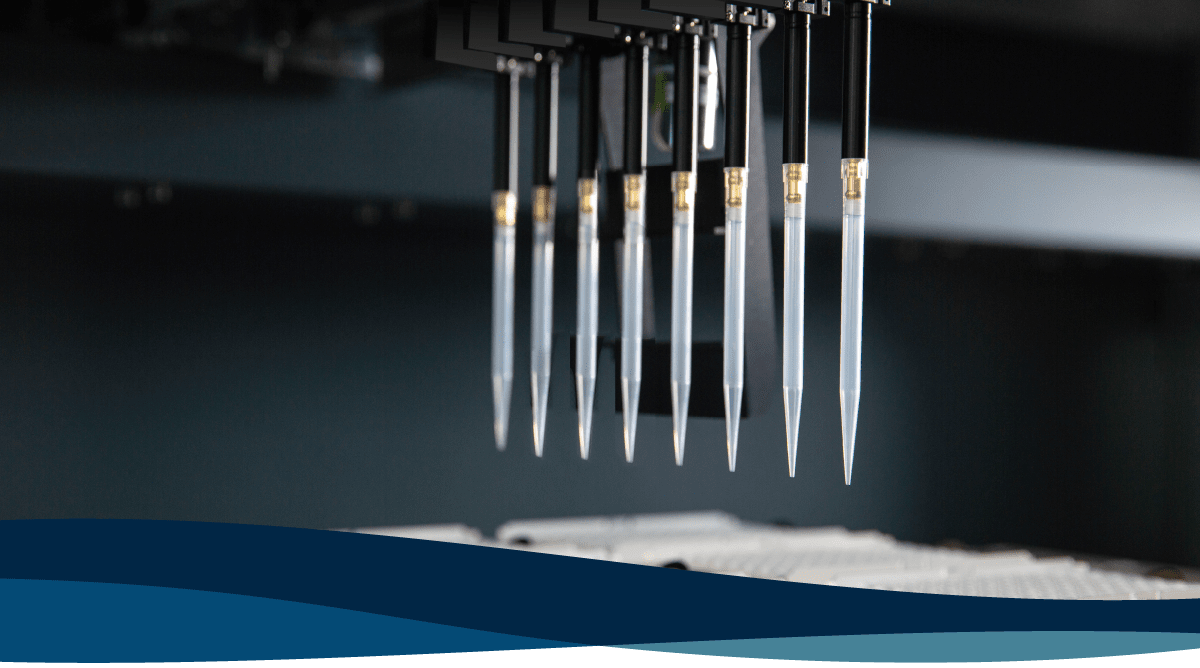 Product Improvements
Improved Ultraplex 3 features, updated SARS-CoV-2 panels, & faecal extraction capabilities
We are excited to share several product updates and improvements.


Coming soon…

Ultraplex 3

The next generation of high-throughput molecular diagnostics automation is coming.

Subscribe to our mailing list to be the first to receive updates.
Improved SARS‑CoV‑2 detection

AusDiagnostics SARS‑CoV‑2 & Influenza Panels (REF 20081 & 80081) now feature a third SARS‑CoV‑2 assay. The additional assay will ensure optimal diagnostic coverage in the face of ongoing changes to global SARS‑CoV‑2 genomics.
Puryx® Comprehensive

Our Puryx® Comprehensive extraction kit has been validated for use with faecal sample types. The new capability improves the versatility of our platform extraction technology for all your downstream workflows.
New Virtual Lab

You can now experience the Highplex, Ultraplex 3, MT-Prep™ 24, and MT-Prep™ XL in informative virtual demonstrations.

From wherever you are in the world, the virtual demos offer you a closer look at the instrument's inner workings and unique features.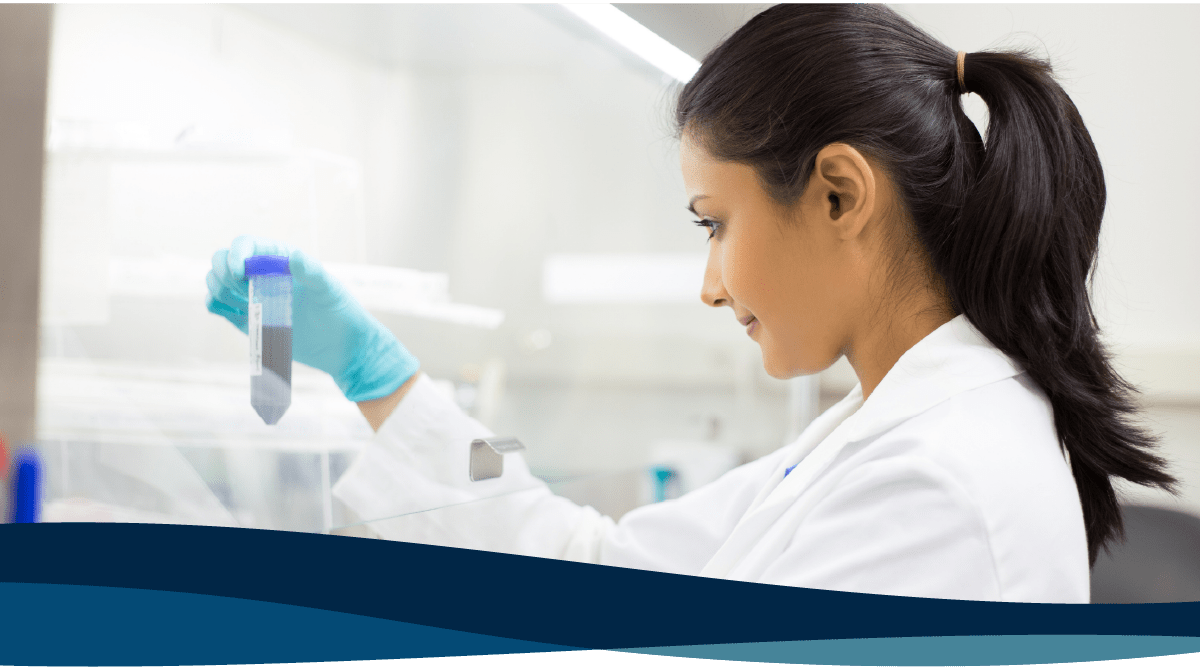 BGI Americas distributes AusDiagnostics products in the USA
We are thrilled to announce that AusDiagnostics has partnered with BGI to be our new distributor of TandemPlex® MT-PCR products within the USA.
As a leading brand in molecular diagnostics, BGI has a strong global network across over 100 countries. The partnership will assist us to improve our sales network whilst continuing to deliver high-quality service to our customers.
"Our key focus for 2022 has been to expand our sales and distribution network so we can better support our customers. Engaging with a strong industry leader like BGI will help us to accelerate the delivery of better testing solutions to our customers." – Scott Gilroy, CEO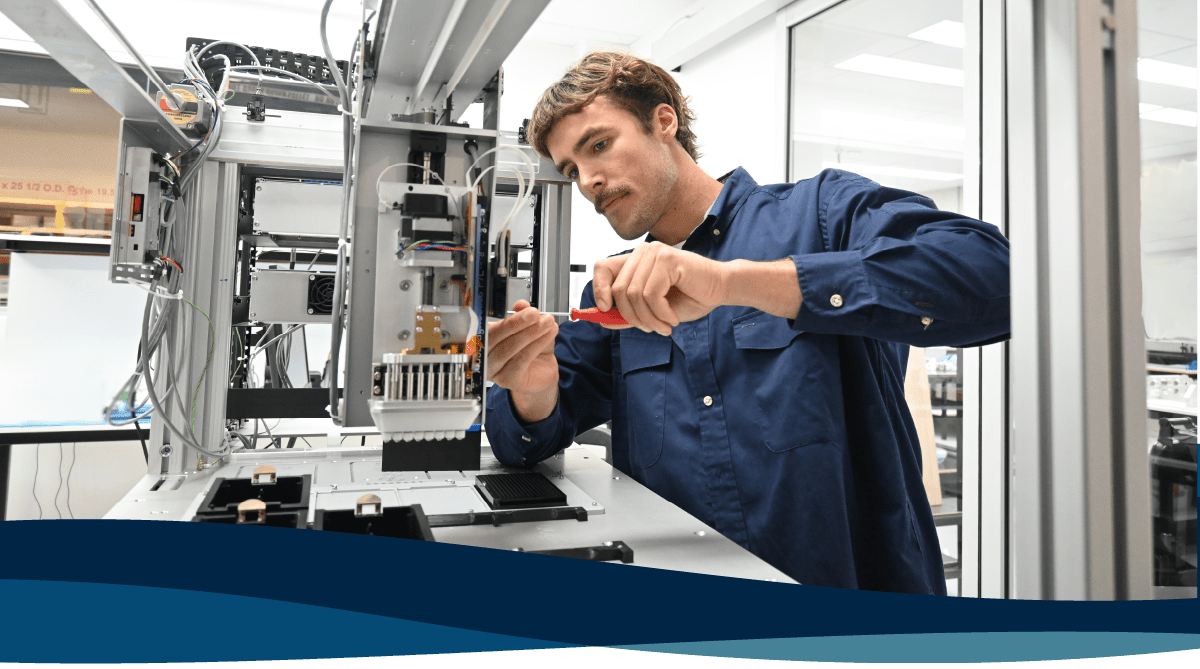 Upgrading our facilities for an even more secure supply chain
Our Research & Development Engineering team have moved into their brand new workspace. The purpose-built engineering space and independent office will allow us to better design and deliver improvements to our products and new automations solutions.
The move coincides with an expansion to our Manufacturing space, consisting of a dedicated floor for the robotics assembly line and all other robotics manufacturing operations.
Our Production team's capabilities have expanded with the implementation of the PlateButler® system. The system rapidly automates plate sealing, improving productivity by 700% and ensuring a reliable quality product.
The reinvestment in our facilities is part of our commitment to providing the best possible diagnostics through a reliable supply chain, coupled with ongoing improvements and innovations.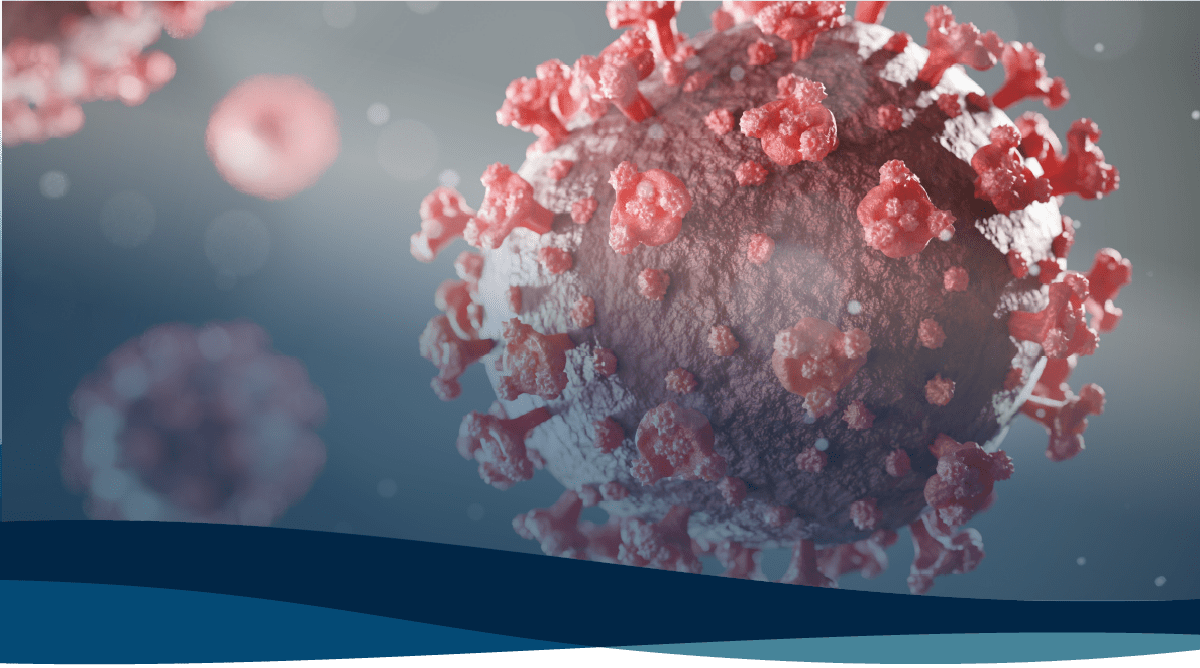 Flu Season Update
Delayed explosion of cases in Southern Hemisphere highlights need for combined respiratory screening
The 2022 respiratory season has been unpredictable in the Southern hemisphere. Australia and New Zealand are experiencing delayed spikes in influenza cases far in excess of those reported since the beginning of the pandemic.
The Global Influenza Surveillance and Response System (GISRS) reported a total of 7711 laboratory-confirmed influenza cases from 1st January to 26th June 2022. 1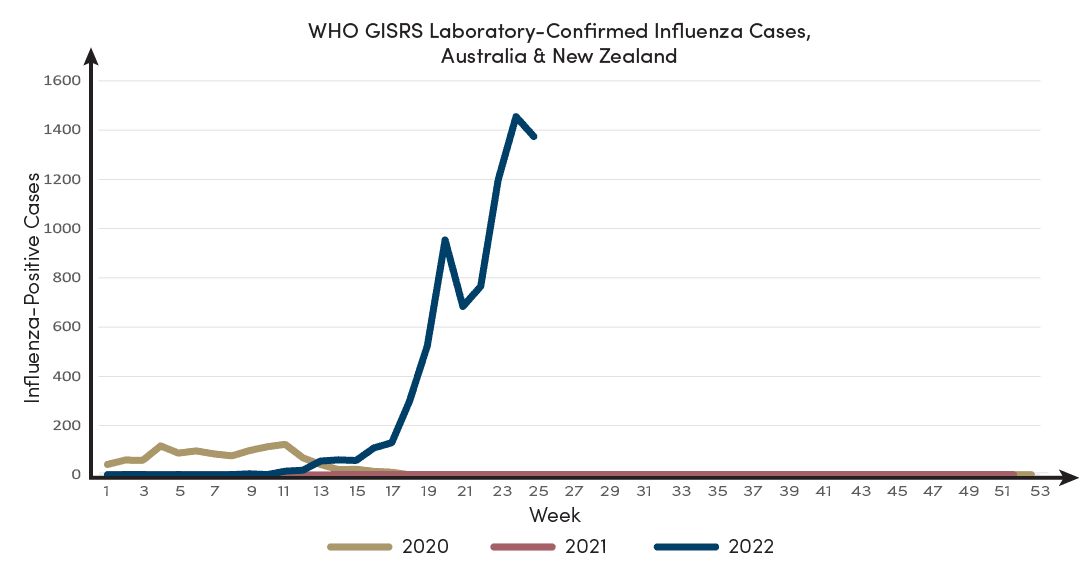 Global Influenza Surveillance and Response System (GISRS) 1
The out-of-season spikes may be the result of ongoing relaxation of COVID-19 countermeasures and changes to care-seeking behaviour, and highlight the importance of influenza screening alongside SARS-CoV-2.
Stay ahead of influenza with combined influenza and SARS-CoV-2 TandemPlex® panels.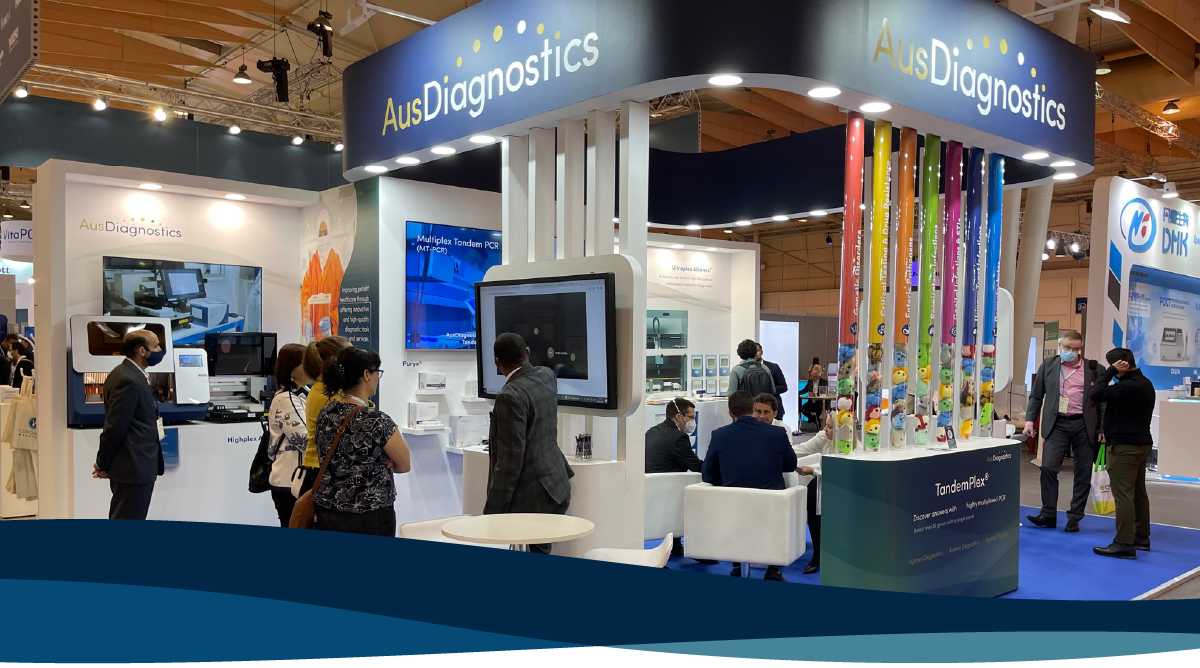 Join us at upcoming events
The diagnostics industry is rapidly evolving in response to a range of healthcare issues.
Connect with us at these upcoming conferences to find out how AusDiagnostics can help you achieve more with molecular diagnostics and automation workflows.
ASM 2022 | 11-14 July 2022
International Convention Center
Sydney, Australia & Virtually
Booth #14

Register Now

CliniCon 2022 | 14-15 July 2022
International Convention Center
Sydney, Australia & Virtually
Booth #14

Register Now

AACC 2022 | 24-28 July 2022
McCormick Place Convention
Center, Chicago, USA
Booth #1758

Register Now
Be the first to receive AusDiagnostics updates:


Join the conversation: